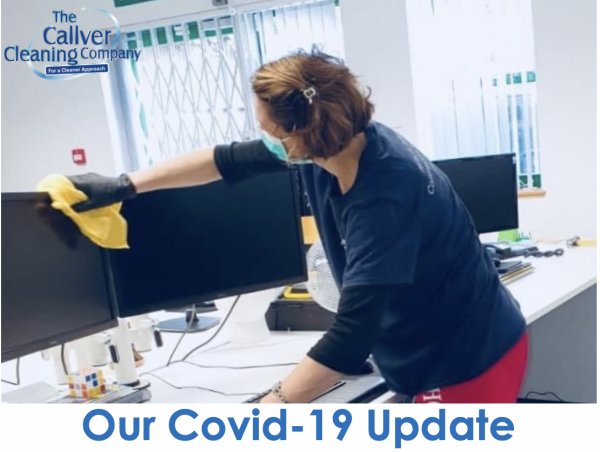 The Callver Cleaning Co Covid-19 Cleaning
Our Covid-19 Update
Monday 4 May, 2020
Coronavirus, or Covid-19 isn't going away anytime soon. It seems a LOT longer than two months since the UK reported its first confirmed case.
For over 15 years, The Callver Cleaning Co has been providing commercial cleaning service to a variety of premises from residential apartment buildings to cleaning museums, schools, offices and factories. But never before has cleaning been so important.
We as a company are still fully operational, but our priorities have changed, and the services we're being asked to provide have also changed. Emergency cleaning requests have become part of our every day, and the pressure to ensure we're fully compliant with health & safety management and able to provide our staff with the best training, professional and effective virucidal cleaning chemicals and appropriate PPE never more difficult. But we'll do it, and we are here to help those that need us, and we'll continue to be here throughout this crisis.
Some offices and commercial premises have closed, but many remain open, whilst observing distancing and following government guidelines. Our staff are fully trained to serve premises that are still open, and our cleaners will be kept as safe as is possible wherever they serve. They will work alone, and travel alone where possible. They will stay apart from each other and from anyone present. They will wear masks, gloves, be provided with aprons, and will use, almost everywhere, the latest products and disinfectants specifically chosen for their effectiveness in the fight against Coronavirus.
We've been looking after some of the largest retailers in the world, cleaning office and shop floor areas where confirmed personnel with Coronavirus may have worked, making safe these areas for other employees to operate. We've looked after cleaning to care homes, the communal areas with residential apartment buildings and provided 'deep' cleaning to offices and commercial premises that are currently closed but demand a safe and hygienic workplace for when things start to get back to normal.
Perfectly detailed cleaning has become essential in all shared areas, concentrating on door plates, switches, lift buttons, handrails, hot desks, soap dispensers, taps and alarm and control panels. This cleaning detail is only effective when conducted with care, precision and with staff trained to use the products exactly as designed. This is paramount in commercial premises, and maybe most importantly, in the shared areas of apartment buildings where people have been forced to stay home.
Many cleaning companies in our area have closed, some of them permanently, and we say that with some sadness. Some of these companies were quite big but couldn't find a way through this crisis, and some were very small where personal circumstance meant they had to stop. But, if the cleaning to building you live in has stopped, if the cleaners in your office aren't arriving or are not cleaning effectively, if the cleaners you see are not protected or not working safely, then just let us know and we'll be here to help. Even if it's just once to bring the areas back to the level of cleanliness demanded in these times.
We're also here if you need advice, guidance or to source certain products or janitorial items.
We'll say again, NEVER before has cleaning been so important, and PERFECTLY TAILORED COMMERCIAL CLEANING is what we've always done.
If we clean for you already, we promise to continue looking after you brilliantly - we're not going anywhere! If we haven't served you yet, please just get in contact if you think we can help you.
Please stay safe and well and thank you for your continued support.
The Callver Team.