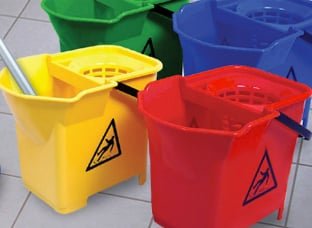 Cleaning & Colour Coding - Why this matters?
Tuesday 7 September, 2021
Having different coloured buckets may not seem anything other than the choice a cleaner may have made - They prefer the colour green, perhaps? But, it's much more important than that.
In professional kitchens, chefs have a variety of cooking utensils that they use for separating the preparation and cooking of different food items, such as different coloured chopping boards for raw/cooked meats and vegetables. In fact, you may even do something similar in your own home. After all, who wants to risk cross-contamination?
This same principle also applies to commercial cleaning. In the same way that you wouldn't want cross-contamination between your raw chicken and your carrots, you wouldn't want the floor of your office mopped with a bucket that is also used for cleaning the communal toilets.
Although it isn't a legal requirement for cleaners to have different coloured mops & buckets, the British Institute of Cleaning Service (BICSc) developed an industry wide cleaning code to allow cleaners to identify which areas should be cleaned with which colour, to avoid contamination. Your kitchen floor should be cleaned with a different mop than was used to clean your toilet floor. It seems simple when put like this.
The cleaning industry should follow this guidance.
BLUE: General Cleaning
YELLOW: Clinical Cleaning
GREEN: Kitchen Cleaning
RED: Toilet/Bathroom Cleaning
The essence of the guidance is to not allow germs found in one area to spread to another. Some bacteria and viruses thrive better in different areas. The same applies with food that should be kept on different shelves in a fridge. They can regenerate and must be killed with effective cleaning in whatever area they may be.
The outbreak of Coronavirus (Covid-19) has brought cleaning, sanitisation, hygiene, and general cleanliness to the forefront of our minds. Cleaning has NEVER been more important. Hygienic kitchen areas, sanitised washrooms and clean office spaces are essential for preventing the spread of viruses and bacteria. Colour coding plays a huge part.
Our staff at The Callver Cleaning Co are trained to use different colours for different areas. If the mop bucket must be red. The mop must be red, the handle must be red. It's because we care that this should happen. Effective cleaning cannot happen without this discipline.
So, when you see our professional cleaners using a variety of brightly coloured equipment whilst working in and around the Watford area, you will know that this is so we can provide you with the most hygienic, professional, and thorough clean possible - and not just because we preferred the colour green.
If your current cleaners have a yellow bucket with a red mop and a green handle. You may want to have a word…
For more details about how we can help you, please visit our blog page here https://www.callver.com/latest-news