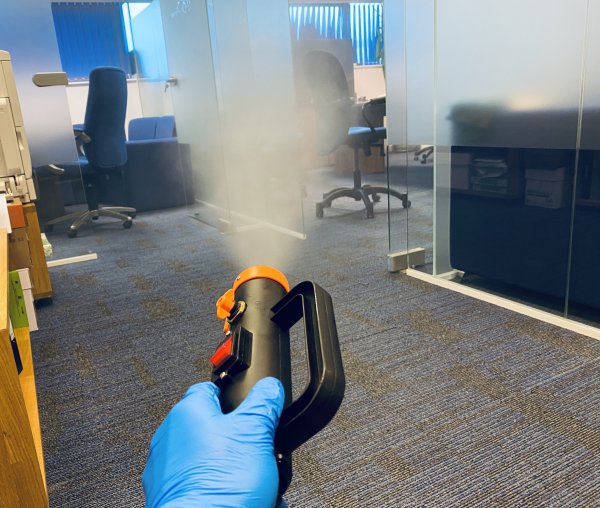 Chemical Fogging - The Callver Cleaning Co
Covid-19 - How we can help keep you safe
Thursday 22 October, 2020
As the number of confirmed cases of Covid-19 rise rapidly in the UK, we want to reassure you that we're here to help keep you safe, keep you open, and help stop the spread of the virus.
Here at The Callver Cleaning Co we have the equipment, knowledge and the expertise to ELIMINATE viruses from your commercial premises.
The most effective way is to use a technique called 'virucidal chemical fogging'. 'Fogging' is carried out using a machine that creates and spreads a very fine mist of industrial disinfectant into the air that reaches otherwise inaccessible areas or those difficult to reach using manual cleaning methods. The microscopic droplets will kill viruses, including Covid-19 on impact, whether airborne, or with surface trace.
Infection control is now our TOP priority and we believe that the use of bio-hazard fogging is a huge step in the right direction of containing the virus. The products used are safe on equipment such as printers, computers and fire control systems etc, as the mist is exceptionally fine but effective in penetrating all areas.
The process MUST be conducted by trained professionals, protected with PPE & respiratory equipment, and the areas, once treated, must be sealed off completely to allow the 'fog' to disperse. However, the commercial premises can be deemed safe for re-entry between 1 hour and 4 hours after completion (depending on size and layout) to allow you (and your customers) to safely return to work or re-enter the premises.
Our teams of professional cleaners providing regular commercial cleaning routines are FULLY trained to conduct full virucidal cleaning schedules, and will continue to provide these cleaning services AT ALL TIMES during this pandemic to help you.
As always, we're using the very best products available, using the very best cleaning methods with the very best teams. ALL cleaning services are now conducted with virus dissolving chemicals, applied with paper, rather than cloths, with cleaning staff fully protected with PPE, and with appropriate disposal of contaminated waste.
If you work in an office based environment, run a leisure centre or gym, manage a residential building with communal areas or have a shop or commercial premises, please get in touch and we'll be here to help you in any way we can. If you're premises are in Watford, we aim to be with you to commence emergency fogging with 24 hours. In other areas we serve, (Greater London, Essex, Amersham, Rickmansworth, Denham, Beaconsfield), we aim to be with you 48 hours.
You DO NOT need to close if a colleague, employee, customer or resident either displays symptoms or indeed receives a positive outcome of a Coronavirus test.
On a separate note, if we're not you're current cleaning contractor, and if you feel that your current cleaners aren't looking after you as well as you would like through this pandemic, please just get in touch; we're here to help you too.
We hope everyone stays safe throughout this crisis.