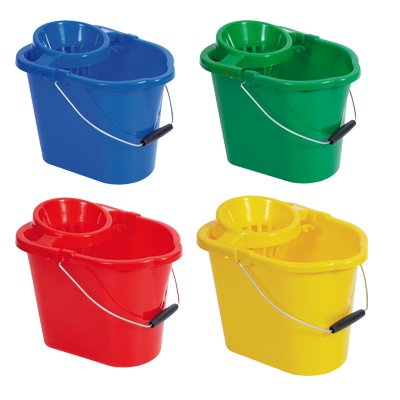 The Importance of Colour-Coding
Friday 4 October, 2019
Colour-coding. It doesn't sound like the most exciting topic in the world. But have you ever stopped to think about how important it is, not only in professional environments but in your day-to-day life?
In professional kitchens, chefs have a variety of cooking utensils that they use for separating the preparation and cooking of different food items. In fact, you may even do something similar in your own home. After all, who wants to prepare uncooked meat and vegetables on the same chopping board?
This same principle applies to commercial cleaning. In the same way that you wouldn't want cross-contamination between your raw chicken and your carrots, you wouldn't want the floor of your office mopped with a bucket that is also used for cleaning the communal toilets!
For this reason, across the commercial cleaning industry there is a standard colour code used: red for bathrooms, blue for general low-risk areas, yellow for clinical areas, and green for areas involving food and beverages. This system is designed to prevent the spread of germs and increase the standards of hygiene when cleaning takes place in commercial environments, and includes items such as mops, buckets, brushes, and cloths.
So, if you see our Callver Cleaning Company staff using a number of brightly-coloured buckets while working in the Watford area, you will know that this is so that we can provide you with the most hygienic, professional, and thorough clean possible - and not just because they look colourful!
Callver is committed to providing the best, most trusted cleaning service possible, using the very best staff around, with the best materials available at a reasonable and fair price…It's as simple as that.